Satellite images revealed real problems faced by farmers due to harsh weather this spring, as severe flooding in the Midwest at the beginning of this year's planting season left vast swathes of farmland submerged in water and browned from space rather than green.
This does not bode well for farmers who have already been behind maize and soybeans this year, corn and soybeans are currently at their lowest levels for the time of year.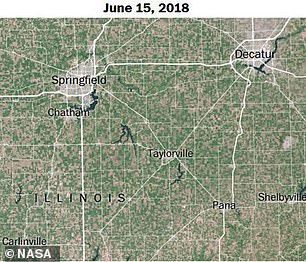 Farmers are feeling the effects of the harsh weather that has hit the region over the past few months, including heavy rainfall that could flood the fields.
While the area from Ohio to North Dakota, known as the corn belt, is usually rich in green when seen from satellite images, it looks like a pale year.
The fields of maize and soybeans now look like a "war zone" compared to what they should be, and some economists estimate there could be a 10 percent reduction in production per acre, said Scott Irwin, an economist at the University of Illinois.
The US Department of Agriculture (USDA) has identified the status of maize crop at 56% good to excellent, while a year ago, 76% of maize crop was rated good to excellent.
Read also: US meteorologists released bad weather alert