A small microbe that can survive in conditions similar to the harsh environments on Mars has been discovered. It lives in one of the warmest places on earth in salt water at 89 ° C (192 ° F) and strong acidic condition.
According to the Daily Mail, the bacteria are the first evidence of a viable species in hot places, where experts say their similarities with Mars's thermal environments can reveal more secrets about the Earth and the origin of the red planet.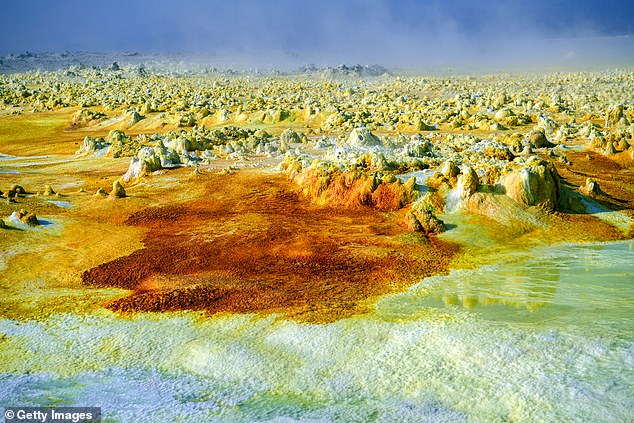 The hydro-thermal dolphin field in the Danakil dam in Ethiopia, where the microbe lives, is the hottest inhabited area in the world and is home to yellow, red and green landscapes. It is located at the northern end of the Danakil depression. The average annual temperature of the region is 36 to 38 ° C 97 to 100 degrees Fahrenheit).
The unusual geological chemistry of the reefs has parallels with the aquatic environments on Mars. Danakil's distinctive hills were created through precipitation containing high-temperature water saturated with salts such as silver chloride, zinc sulphate, iron, manganese dioxide and natural rock salts.
Volcanic activity also heated up water. A team of researchers collected samples from the Danakil volcano from thin layers of salt deposits that came from excess water with a pH of 0.25.
The microbial was extracted from hot strains, where salt samples were transferred for analysis using methods including electron microscopy, chemical analysis and DNA sequencing in Spain.
Their analysis identified small spherical structures within salts containing high carbon content, confirming the existence of a biological species, Find this species to be a strain of exotic bacteria.
"The results of this study suggest that microorganisms can live in this harsh environment, which has implications for understanding the limits of habitation on Earth as well as on Mars," the researchers wrote in the report.
"Deep research into the characteristics of this stunning site will improve our understanding of the limitations of life on earth, which is guided by our search for life on Mars and elsewhere in the universe," said Barbara Cavalzi of the University of Bologna, the lead author of the review.
Read also: Mars exploration rover test before it launches next year