US President Joe Biden said that he had achieved many achievements in reducing unemployment rates and vaccinating the largest number of citizens against the Coronavirus, and Biden tweeted on his official account saying: "Unemployment cases have decreased by 50% and 64% of adults have been vaccinated since I took office. That's progress."
US President Joe Biden added that the United States has an opportunity to increase the size of the economy through the investments he proposed, continuing: "We have an opportunity, through the investments that I propose, to increase the size of our economy by 4.5 trillion dollars over the next decade and win the competition for the future."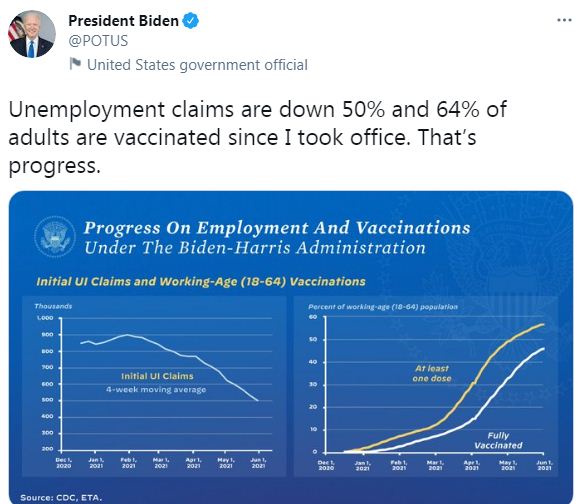 Before that, US President Joe Biden stressed that the American jobs plan created many job opportunities for citizens and achieved many achievements, explaining that the approval of Congress to pass the American jobs plan that will create millions of well-paid jobs for US citizens.
US President Joe Biden spoke on his official account on Twitter, saying: "Since the beginning of our administration, we have created more than 1.5 million jobs, we have come a long way, but the truth is that we still have more to go, and Congress needs to pass the American Jobs Plan. That will create millions of well-paying jobs to rebuild our nation's infrastructure."
Earlier, the White House stressed the importance of the American jobs plan developed by the administration of US President Joe Biden to provide more jobs for US citizens, and the White House indicated that the jobs plan will provide the atmosphere for the best American minds to achieve more innovation and provide many new jobs.