Elon Mask, chief executive of Tesla and " SpaceX" ridicules the vision of Jeff Bezos, the chief executive of Amazon and the owner of the Blue Earth Space Company, which he had previously shown about the construction of human settlements on the moon, and this is not the first time he criticized Mask Bezos because of competition in space.
According to the "Business insider" Musk described in Tweet Jeff's sketches as" like trying to build the United States of America in the middle of the Atlantic ", to reflect the fact that it is a kind of unrealistic science fiction.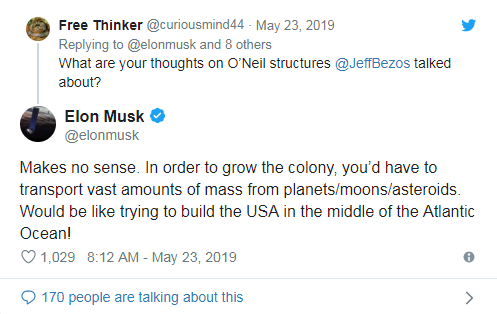 Elon Mask
At a press conference in Washington, Bezos presented blueprints for his company, Blue Origin, including his ambition to create a continuous human presence on the moon, and part of Bezos' dreams of space colonization, including enormous cylinders called O'Neill colonies, named after Gerard O'Neill, A Princeton physicist who arrived with the concept in 1976, Bezos said his goal was to house a trillion people in the colonies.
"To develop the colony, you have to move huge amounts of planets, moons and asteroids," said one of the Twitter users, who asked about his opinion of the colonies of O'Neill, proposed by Bezos. "It's like trying to build the United States in the middle," he said. Atlantic Ocean."
Mask also ridiculed the name of the landing gear on the moon in the "Blue Origin".
Bezos also made an indirect blow to Mask by pointing to the lack of stability on Mars.
Read also: Elon Musk taunts Jeff Bezos on moon lander