Elon Musk, chief executive of Tesla, achieved more in 2018 than the earnings of 65 of the top CEOs combined. CEOs earn a lot of money, but Elon Musk broke all standards in 2018, according to a New York Times study.
The report said, Elon Musk's material compensation was estimated at nearly $ 2.3 billion last year, largely in the form of equity options. David Zaslav, chief executive of Discovery, which earned only $ 129 million in the same year.
This huge discrepancy was illustrated in the graph illustrating the remuneration of senior executives, representing 199 other executives on the list through a standard bar chart.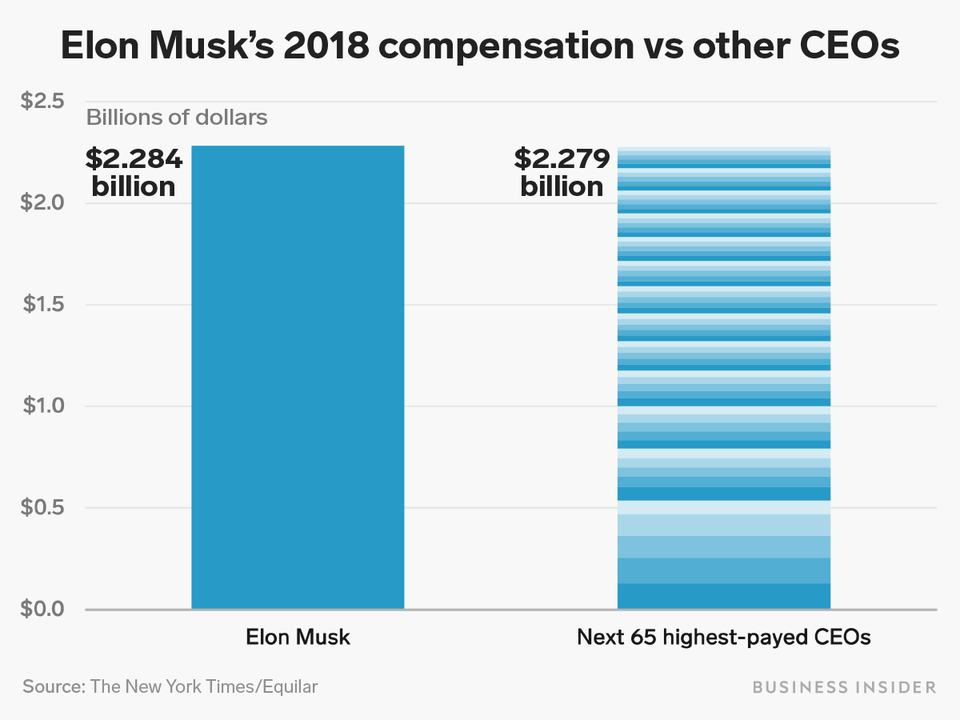 Elon Musks earning graph
The figure is higher than the earnings of 65 of the leading executives on the Times list, but Tesla, in this description, complained to Musk for all this from the company, in a statement to the Business Insider, where a company spokesman wrote: "Elon actually got $ 0 as total compensation from Tesla for his effort in 2018, and any other reports are incorrect and misleading. "
Unlike other CEOs, Elon does not actually receive any salary or cash bonuses from his position in Tesla, and his only compensation is a risk-taking performance award that is profitable in cases such as doubling Tesla's current market value from about $ 40 billion to $ 100 billion as a result, Elon's compensation is fully tied to the long-term success of Tesla and its shareholders.